Carol Mendel's
San Francisco Bay Area map
In addition to what you see here, this map is available in a paper version, and as a clickable internet map. How to buy a paper version is described next, and below that, how to enter the clickable version.
---
Printed paper version
This map of the San Francisco Bay Area fills one entire side of
Carol Mendel's San Francisco Bay Area Visitor's Map
, a printed map 24" wide by 18" high.
On the other side of that map are five smaller illustrated maps, including ones of
Downtown San Francisco
,
San Jose & Santa Clara
,
Fisherman's Wharf
,
Golden Gate Park
, and the
Wine Country
. An index covers all the maps.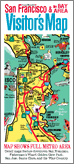 The map costs $5, including shipping, handling, and (where applicable) sales taxes, as long as it is mailed to a U.S address.
To order a
single copy
of this map online, and have it mailed to a U.S. address, click on the "Buy Now" button below.
For
all other orders,
click here
. This includes orders involving more than 1 map, laminated maps, international shipping, or payments by check or money order.
Orders for 3 or more maps qualify for discounts.
---
Clickable internet version
In the internet version, clicking on most names and illustrations brings up a website of the selected community or visitor attraction. Unfortunately, the clickable feature does not work well on a device as small as a cellphone. It works best on a tablet or desktop.
Use this key map to click on the area where you want to begin exploring the pictorial map.
Before you begin, you might like to take a look at the map's legend.
---
Wooden trays based on this map:
A version of the San Francisco Bay Area map is available from Amazon as a laminated wooden tray. There are two sizes: 11"x 8" and 13" x 17". For details,
click here
.
---








Copyright © by Carol Mendel