Carol Mendel's
San Francisco Bay Area Visitor's Map
A paper map that includes six maps of the San Francisco Bay Area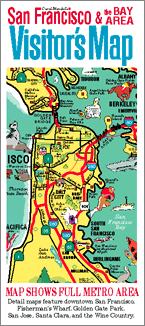 Carol Mendel's visitor maps are full-color, pictorial maps of major visitor destinations. The large type makes them easy to read, and the many illustrations make them fun to use. They are useful both to get you where you're going, and to keep as a souvenir of your visit.
The map costs $5, including shipping, handling, and (where applicable) sales taxes, as long as it is mailed to a U.S address.
To order a
single copy
of this map online, and have it mailed to a U.S. address, click on the "Buy Now" button below.
For
all other orders,
click here
. This includes orders involving more than 1 map, laminated maps, international shipping, or payments by check or money order.
Orders for 3 or more maps qualify for discounts.
Opened size: 18" x 24"
Folded size: 4" x 9"
ISBN: 0-935179-29-1
Printed in 2000
---
The maps included in the visitor's map:
San Francisco Bay Area map
This pictorial map of the San Francisco Bay Area covers one entire side of the printed visitor map.
Enlarged version of this map and access to a clickable version.
The map is surrounded by a border featuring
A Short Illustrated History of the Bay Area
.
On the other side of the map are five smaller illustrated maps, including ones of Downtown San Francisco, Fisherman's Wharf, Golden Gate Park, San Jose & Santa Clara, and the Wine Country. An index covers all the maps.
---
The printed maps in this series:

Available in both folded and in unfolded, laminated forms:

San Diego* | San Francisco & the Bay Area*

Salt Lake City & the Wasatch Front

Washington DC | Santa Barbara | Las Vegas


Available only as unfolded, laminated maps:

Los Angeles & Orange County | Oregon

(* = internet version includes a clickable map)


---








Copyright © by Carol Mendel