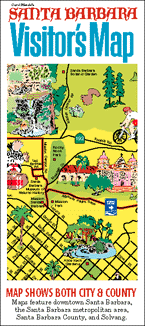 The downtown Santa Barbara map is one of three maps shown on the reverse side side of the Santa Barbara Visitor's Map. In the printed paper version of the map, the size of the downtown map is approximately 8" x 9".

The main side of the Santa Barbara Visitor's Map measures 24" x 18", and covers the metropolitan Santa Barbara area. It's a pictorial map featuring main roads and visitor attractions. In addition to the map of downtown Santa Barbara, the reverse side includes a map of Santa Barbara County, a map of the Danish-American community of Solvang, and an index.

The map costs $5. This includes everything -- shipping, handling, and (where applicable) sales taxes, as long as it is sent to a U.S address. To order online a single copy of this map mailed to a U.S. address, click here. Otherwise, to order by check or money order, to get quantity discounts for ordering multiple copies, or to order a variety of different titles, click here.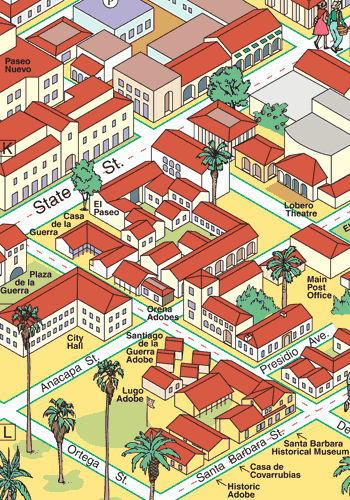 detail from the downtown Santa Barbara map
Note: The printed map is sharper than shows up at full size on a computer screen. The enlarged image above gives a better indication of the clarity of the printed map.